How to Make a Donation to the Roughing It Foundation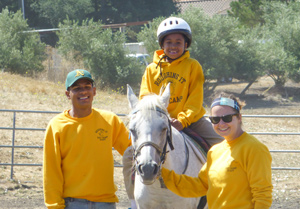 A donation of any amount is always appreciated. In fact, most of our donations by camper families over the years have been what may be considered smaller amounts of $25.00, $50.00 or $100. All these donations taken together add up to make camp possible for many children to attend!
To Make a Donation You Can:
1. Donate online:

2. Cash Donations:
Make check payable to Roughing It Foundation and mail to:
The Roughing It Foundation
4123 Hidden Valley Road
Lafayette, CA 94549

3. Contribute with securities or stock:
You can make a contribution by donating stocks or securities.
To set this up, contact us at foundation@roughingit.org.

4. Donate Your Horse:
You can donate your horse to the Roughing It Foundation, Equine Camperships Fund.
Tax Credit for Your Donation:
The Roughing It Foundation has received the public charity tax-exempt status 501 © (3) from the US Internal Revenue Service. Contributions are tax deductible to the extent permitted by law.
Our Tax ID Number is: 94-3368775

The Roughing It Foundation
4123 Hidden Valley Road
Lafayette, CA 94549
925-283-3878